Evaluation Groups and Schedule
---
---
2017 Evaluation Game Teams (Updated Sept. 21, 2017)
U10 Step 2/3 Game 5 Team Assignment (Final Evaluation Game)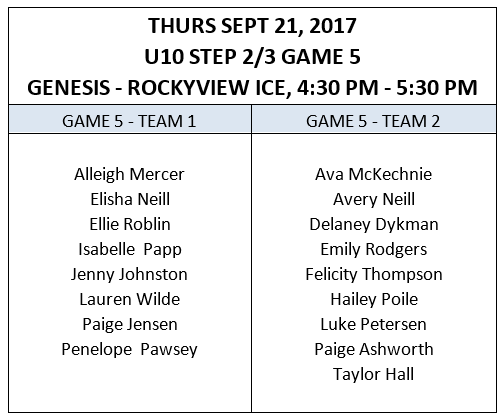 U12 Game 5 Team Assignment (Final Evaluation Game)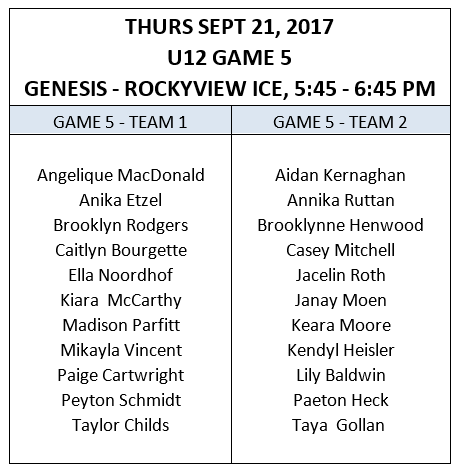 * U14 Player Evaluations have been completed.
---
Evaluations
Evaluation Groups Now Posted
U10 Step 1's do not have formal evaluations but are required by Ringette Alberta to perform UAA evaluations.
Active Starts do not require player evaluations.
UAA Groups (PDF)
Skill Groups (PDF)

Evaluation Process:
Exceptions:
Any player exceptions from the evaluation process will be addressed on a case by case basis with the following criteria:
Pre-season injury
Injury occurring during the evaluation process
Pre-existing injury or condition
Illness or family emergency
All cases must be brought to the attention of your Division Evaluation Coordinator BEFORE the next ice time to be considered for exception to the evaluation process. If your child is unable to attend any of the scheduled Evaluation skate times due to illness or injury, it is imperative that you contact your Division Evaluation Coordinators and let them know. A doctor's note may be required. If your child is unable to attend for any other reason, or you DO NOT notify your Division Evaluation Coordinator (no show), a "zero" will be recorded for their score for that session.

The Division Evaluation Coordinator will then bring the issue forward to the Evaluation Committee. A reasonable and fair course of action will be undertaken to place the player considering, but not limited to, the following factors:
Previous years' coaches evaluation and feedback
Placement of peers from previous season
Any information gathered from the current year evaluation process
All decisions made in these cases, and ratified by the ARA Board of Directors, are considered final.


Consideration:
Evaluations can be a hectic and stressful time for players, parents and volunteers. Please remember that all members involved in evaluations are volunteers. On-Ice Coaches, On-the-bench helpers, Off-Ice Evaluators, Evaluation Coordinators and Division Coordinators, and the Board of Directors dedicate large amounts of time and energy to provide the most effective process possible. All efforts are made to consider players and parents during evaluations through preparation, communication and an open process. Please be considerate of the volunteers' time and efforts made during evaluations.

2017/2018 ARA Evaluation Schedule
Day

Date

Times

Arena

Sessions

Groups

Monday

11-Sep-17

4:30 PM to 5:30 PM

Genesis - Rockyview Ice

UAA

U10 Step 1 - UAA Group 1

Monday

11-Sep-17

5:45 PM to 6:45 PM

Genesis - Rockyview Ice

UAA

U10 Step 2/3 - UAA Group 1

Monday

11-Sep-17

7:00 PM to 8:00 PM

Genesis - Rockyview Ice

UAA

U14 - UAA Group 1

Tuesday

12-Sep-17

4:30 PM to 5:30 PM

Genesis - Rockyview Ice

UAA

U10 Step 1 - UAA Group 2

Tuesday

12-Sep-17

5:45 PM to 6:45 PM

Genesis - Rockyview Ice

UAA

U12 - UAA Group 1

Wednesday

13-Sep-17

4:30 PM to 5:30 PM

Genesis - Rockyview Ice

UAA

U10 Step 2/3 - UAA Group 2

Wednesday

13-Sep-17

5:45 PM to 6:45 PM

Genesis - Rockyview Ice

UAA

U12 - UAA Group 2

Wednesday

13-Sep-17

7:00 PM to 8:00 PM

Genesis - Rockyview Ice

UAA

U14 - UAA Group 2

Thursday

14-Sep-17

4:30 PM to 5:30 PM

Genesis - Rockyview Ice

UAA

U10 Step 2/3 - UAA Group 3

Thursday

14-Sep-17

5:45 PM to 6:45 PM

Genesis - Rockyview Ice

UAA

U12 - UAA Group 3

Saturday

16-Sep-17

11:15 AM to 12:15:00 PM

Genesis - Rockyview Ice

Skills

U10 Step 2/3 - Skills Group 1

Saturday

16-Sep-17

12:30 PM to 1:30:00 PM

Genesis - Rockyview Ice

Skills

U10 Step 2/3 - Skills Group 2

Saturday

16-Sep-17

1:45 PM to 2:45:00 PM

Genesis - Rockyview Ice

Skills

U12 - Skills Group 1

Saturday

16-Sep-17

5:30 PM to 6:30:00 PM

Genesis - Shane Homes Ice

Skills

U12 - Skills Group 2

Saturday

16-Sep-17

5:45 PM to 6:45:00 PM

Genesis - Rockyview Ice

Skills

U14 - Skills Group 1

Saturday

16-Sep-17

6:45 PM to 7:45:00 PM

Genesis - Shane Homes Ice

Skills

U14 - Skills Group 2

Sunday

17-Sep-17

5:00 PM to 6:00:00 PM

Genesis - Rockyview Ice

Evaluation Game

U10 - Step2/ 3 - Game 1

Sunday

17-Sep-17

6:15 PM to 7:15:00 PM

Genesis - Rockyview Ice

Evaluation Game

U12 - Game 1

Sunday

17-Sep-17

7:30 PM to 8:30:00 PM

Genesis - Rockyview Ice

Evaluation Game

U14- Game 1

Monday

18-Sep-17

4:30 PM to 5:30:00 PM

Genesis - Rockyview Ice

Evaluation Game

U10 - Step 2/3 - Game 2

Monday

18-Sep-17

5:45 PM to 6:45:00 PM

Genesis - Rockyview Ice

Evaluation Game

U12 - Game 2

Monday

18-Sep-17

7:00 PM to 8:00:00 PM

Genesis - Rockyview Ice

Evaluation Game

U14 - Game 2

Tuesday

19-Sep-17

4:30 PM to 5:30:00 PM

Genesis - Rockyview Ice

Evaluation Game

U10 - Step 2/3 - Game 3

Tuesday

19-Sep-17

5:45 PM to 6:45:00 PM

Genesis - Rockyview Ice

Evaluation Game

U12 - Game 3

Tuesday

19-Sep-17

5:30 PM to 6:30:00 PM

Genesis - Shane Homes Ice

Evaluation Game

U14 - Game 3

Wednesday

20-Sep-17

4:30 PM to 5:30:00 PM

Genesis - Rockyview Ice

Evaluation Game

U10 - Step 2/3 - Game 4

Wednesday

20-Sep-17

5:45 PM to 6:45:00 PM

Genesis - Rockyview Ice

Evaluation Game

U12 - Game 4

Wednesday

20-Sep-17

7:00 PM to 8:00:00 PM

Genesis - Rockyview Ice

Evaluation Game

U14 - Game 4

Thursday

21-Sep-17

4:30 PM to 5:30:00 PM

Genesis - Rockyview Ice

Evaluation Game

U10 - Step 2/3 - Game 5

Thursday

21-Sep-17

5:45 PM to 6:45:00 PM

Genesis - Rockyview Ice

Evaluation Game

U12- Game 5